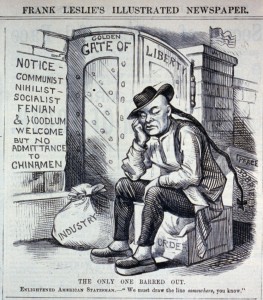 The California State Senate unanimously passed resolutions Friday apologizing for anti-Chinese legislation and for its support of the federal Chinese Exclusion Act of 1882, the first legislation of its kind to restrict immigration rights based solely on race, reports the San Marino Tribune.
According to supporters of the resolution by Senator Bob Huff (R-29th Dist), California was the first state to enact anti-Chinese constitutional provisions and legislation that increased restrictions and hardships on the Chinese.
In 2011 and 2012, both houses of Congress issued statements of regret for the Chinese Exclusion Act of 1882, but critics say that's not the same as an apology.
"An expression of 'regret' is different from an actual apology," said Huff. "Regret is ambiguous and may or may not imply guilt. An apology is clear, expressing both regret and responsibility."
Former Monterey Park Mayor Betty Tom Chu.
"An apology is a sincere expression of accepting responsibility for doing something wrong. That our government can boldly admit and make a declaration of apology is what makes this country so great. We are a stronger nation when we accept responsibility for acts of discrimination."
The resolution passed by the California State Senate urged Congress to issue a formal apology.