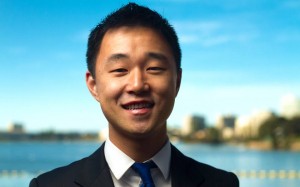 A Korean American student who heckled President Obama during a visit to San Francisco's Chinatown in November continues to push for immigration reform, reports Hankyoreh.
Ju Hong recently returned to South Korea for the first time since immigrating to the US 13 years ago.
He plans to make a documentary about his trip and use it in his campaign for immigrant rights.
Hong's mother brought him and his sister over to the United States hoping for a new life after getting a divorce. The family overstayed its tourist visa and Hong has been living as an undocumented immigrant since then.
"The first time I learned of my predicament was when I was in my final year of high school, getting ready to apply for college. I had decent grades, so I was accepted at a good university. But whereas my elementary, middle, and high school hadn't cared whether I was a citizen or not, there were so many legal and financial hurdles to getting into college without legal status. Even if you find some way to get into college, it's hard to get a decent job," said Hong.
Hong became a legal US citizen under the Deferred Action for Childhood Arrivals, or DACA, in 2012. His sister and mother did not qualify because both were older than 15 when they arrived.
You can read more of Hong's story in Hankyoreh.
You can watch his incident with President Obama in the clip below from KGO-TV.