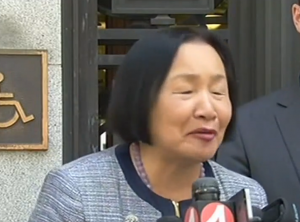 What seemed like a minor accident has turned into a credibility issue for Oakland Mayor Jean Quan, reports KQED
Quan is in the midst of a re-election battle that has certainly added fuel to the fire.
Oakland Police say she was rear ended by someone who ran a red light, but some witnesses say it was Quan that ran the red light and that it appeared she was looking down and talking on her cell phone.
It was a little more than a week ago that KRON-TV reported the mayor was seen twice talking on her phone while driving, which is illegal. Those incidents linger today.
"So what's at stake here is very much her credibility," said Corey Cook, an associate professor of political science at the University of San Francisco. "So I think this is sort of a minor flap that otherwise wouldn't get much attention. Her opponents see this as parts and parcel of how she's governed the city."
Quan has denied talking on her phone this time and says she doesn't think she ran a red light, but will let the police investigation make that determination.
You can read more about what's at stake with his controversy on KQED.
You can also watch the clip below from KGO-TV.