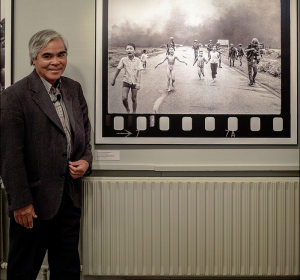 For photographer Nick Ut, the photo he took of the napalm girl during the Vietnam War means a lot more to him than just an award winning picture (photo by Poul-Werner Dam).
Ut won the Pulitzer Prize for photography in 1973 for that photo.
But for Ut, the significance of the photo has a lot more to do with relationships and people.
In fact, Ut tells People he still keeps in touch with the girl. Kim Phuc is now a United Nations Goodwill Ambassador living in Ontario with her husband and their two sons .
Ut still returns to Vietnam to see Phuc's family and to give money to the children there.
Ut will always remember what his brother told him. His brother was also a war photographer and died doing what he loved doing. He died photographing the war in 1965.
His brother told Nick to help end the war by documenting its horrors with pictures.
"After my brother died, the AP was my family now," Ut recalled. "I wanted to replace my brother."
His brother was the seventh child in the family and Nick remembers thinking of him when he took that picture on the highway.
"I thought, 'Seven, please help me. I want a picture that could stop the war.' And you know what? My picture, when it came out – the negative was number seven."
You can read more about Nick's fascinating recollections of that picture in People.