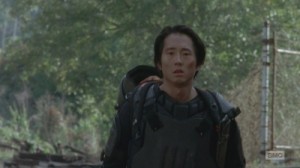 A rumor is apparently circulating that Glenn in the popular series Walking Dead on AMC will be killed off and the show's Executive Producer is doing nothing to stop the speculation, reports Wet Paint.
"I absolutely love it. It means people care and people are paying attention. So keep those rumors flying!" said Robert Kirkman to the Hollywood Reporter.
As Wet Paint points out, a little buzz never hurts a show.
Glenn's death was first mentioned by the Spoiling Dead Fans, only to later refuted by the site The Walking Dead Enthusiasts.
All we know for sure is that the new season of Walking Dead kicks off in October.
Here's hoping Steven Yeun will be around for many Walking Dead seasons to come.