Kollaboration SF has announced its six finalists for its 5th annual showcase this August.
The six were selected for displaying what Kollaboration SF described as "eye opening" talent, each bringing a "unique flavor" to the showcase.
The finals will be held August 23rd at the Conservatory of Music in San Francisco. Stand by for ticket information.
We asked each of the finalists to tell AsAmNews a bit about themselves.
Lawrence Park
Here's what Kollaboration SF says about Park:
Born and raised in San Francisco, Lawrence fell in love with music while attending UC San Diego and found his true passion: singing. He's an advocate for bringing life experiences into song and hopes his soulful music can motivate and inspire.
Here's what Park says about himself:
"Every time I sing, I feel like I have to prove myself because of the fact that I'm Asian American. I know this isn't true, but for some reason whenever I sing at a new venue… I literally feel like people are thinking… "OH HERE WE GO… ANOTHER ONE OF THESE… WILLIAM HUNG IS IN THE HOUSE…" I think I was scarred by my high school basketball coach haha… Literally… his first words to me were…"OH HERE WE GO… ANOTHER ONE OF THESE… LIL ASIAN DUDE TRYNA HOOP.

"I actually think I am a better basketball player then a singer… But with my midget frame and my short Tyrannosaurus Rex arms… I'm sure that my perspective is very biased and subjective."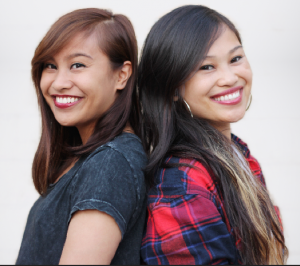 Ruby and Donna
Here's what Kollaboration SF says about Ruby & Donna:
As two sisters from the Bay Area, Ruby and Donna meld two distinct styles – hip hop and acoustic/R&B – to create a unique sound. Growing up in a musically-oriented family, they have been performing together for years.

Here's what Ruby & Donna say:

"We're a duo of two sisters from the Bay Area. We've been performing together for several years and with our individual styles and influences, we create a fusion of acoustic pop, r&b, and hip hop. Donna is the singer and guitarist and Ruby is the rapper and beat boxer of the group.
"We absolutely love the process of creativity in music, so we like to create original tracks — just the lyrics and themes alone will set us apart as they're often a reflection of our personal lives. When we do covers, we prefer to make it sound like a remix so that even the lyrics and instrumental are different from the original song. We hope that our passion and sense of enjoyment of being on stage will translate to the audience. Prior to a show, we always come with a mindset of aiming to have at least 1 new fan by the end of the night."
Ribbon in the Sky
Here's what Kollaration SF says about Ribbon in the Sky:
This 4-person band brings together 4 friends that share a passion for music. As the group's name suggests, their goal is to bring back old-school soul, while giving it a modern-day vibe.
Here's what Ribbon & the Sky say about themselves:
"The members of Ribbon in the Sky are John Ko, James Cho, Jam Zumel, and Victoria Han.

"We've been together for about over a month now but we've all known each other before. We want to represent the old school music sound that has started to fade away in popular music today. Our goal is to bring that vibe back and mix it with a new feel to attract listeners of all ages.

"We've all been musically active as soloists before coming together as a group. Hence, we have four very unique colors. However, due to the beauty of music, we've all managed to combine our unique colors to create sweet, but yet unique, harmonies.

"When people see us perform, we hope that they will notice our dedication to older R&B artists and their timeless sound. Hopefully, our listeners will hear the music we make and come out of it being inspired by the juxtaposition of the new and the old."
19 Diamonds
Here's what Kollaboration SF says about 19 Diamonds:
Coming via Hercules, California, 19 Diamonds is a 5-person band – composed of a group of close friends. Their sound can best be described as indie soul.
Here's what 19 Diamonds says about themselves:
"The 19 Diamonds consist of Jay Burge't on lead vocals and guitar, James Speros on bass, Charles Price on drums, Justin Choi playing lead guitar, and Keanu Chin playing Ukelele. The band originated back in 2004 with Jay and James jamming to Led Zepplin covers while in middle school orchestra class. It wasn't until Charles became a member in 2009 when the band decided to take music more seriously. After collaborating and opening shows for other bands around the Bay Area, the 19 Diamonds found new inspiration to further pursuit a more professional sound and after adding two key members to the band in Justin and Keanu, it heightened the possibilities to achieve this goal.

"What sets us apart from other bands is that we actually formed a brotherhood with one another. We've made sacrifices for each other, we've all expressed almost every emotion to each other known to man. There was actually a point when James and Charles each had a key to Jay's house, that's how comfortable we are. Our chemistry is on another level where you can just feel us connect on every drop and feel every note and lyric as if each one of us was telling you our interpretation of the song. I can't tell you what you'll experience when you hear us, feel us, see us… But you can expect us to portray music the way we believe it should be experienced.
DRC Beatbox
Here's what Kollaboration SF has to say about DRC Beatbox:
From a small farm town in California, Danny Cavero is a beatboxer with 10 years of beats under his belt. He's participated in a couple national competitions and wants to continue bringing his love of this art form to others.
Here's what DRC Beatbox says about himself:
"My name is Danny Cavero, or DRC Beatbox. When I first heard the famous "If Your Mother Only Knew," by the legendary Rahzel, I was inspired to say the least. My older sister introduced me to the traditional old school beats of the late 90's, and together I became infatuated with the art of beatboxing. Although I've been beatboxing for several years, I only recently became serious about it these past five. For many people, beatboxing is just a fun hobby to do at a party with friends. For me, beatboxing is my art, my passion and a part of my life.

"Beatboxing, for the most, has always been depicted as a complement towards some other main feature (e.g. Justin Timberlake beatboxing to one of his songs, vocal percussion in an a cappella group, etc.). Rarely do people get to see beatboxing in its entirety as a separate piece. My goal is to have the audience not only thoroughly entertained by the end of my performance but also enlightened. I want to expose the art of beatboxing in a way that I am sure most are unfamiliar with. I think that is what sets me a part from the other performers. While I also want to share my music, I more importantly want shed light on an art form that is undermined in the world."
Here's what Kollaboration SF says about Str8jackets:
Coming to us from San Mateo, CA, Str8jackets is a hip-hop dance group, with a style grounded on the belief that anyone can dance. The team trains artists of all skill levels to help them better and improve themselves as dancers.
Str8jackets did not submit answers to our questions.