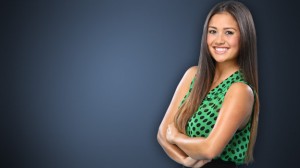 Speculation is rampant that Bachelor winner Catherine Giudici may be pregnant, reports the Inquisitr.
The Filipino American has let it be known to the world that she and Sean would like to have children.
She recently posted pictures of herself on social media in which inquiring fans says they've noticed a baby bump.


Gitin' dolled for Date Night is fun w/@AndiDorfman @DesHartsock & @SuaveBeauty! Share your fave #DateNightHair looks! pic.twitter.com/5r3kWg7TnE

— Catherine Lowe (@clmgiudici) June 16, 2014

Some speculate the announcement will be made on an upcoming Bachelorette special. We shall see what the stork brings.