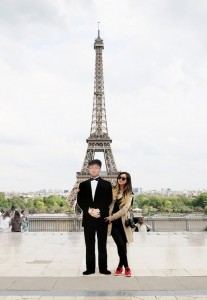 This is quite a story.
It's a story of a daughter's love for the dad she lost to colon cancer two years ago. Jay Kwon Yang died at the young age of 52.
Michelle Woo writes in KoreAm that Jay's daughter Jinna Yang struggled after his death, writing in her personal blog Grease & Glamour that she "no longer wanted to wake up in the morning."
Her father gave everything to his family and never got to go anywhere.
So Jinna decided to pay tribute to her dad by creating a cardboard cutout of him and taking it to some of the world's beautifulest places.
The fashion blogger and photographer  has been snapping photos around the world of herself with the cardboard figure.
You can read more of Jinna's story in KoreAm and checkout Jinna's blog in Grease & Glamour.