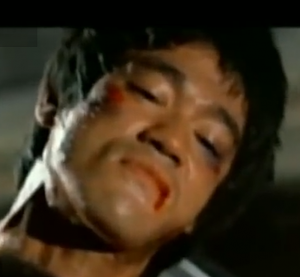 More than 40 years after his death, Bruce Lee still matters.
Complex reports a new video game based on the martial arts legend was released this week on EA Sports UFC as a preorder bonus, or for those who beat the game on Professional Difficulty, as an unlockable.
As buff as he was, Bruce Lee was just 5'7″ and 135 pounds. He was someone almost every man could relate to and certainly someone Asian American men could idolize as a hero.
As Kevin Wong writes, he was everything the Asian American male stereotype wasn't.
He was athletic, not nerdy.
He had charisma and in no way quiet.
He was confident, rather than socially awkward.
He was philosophical, but didn't speak like Charlie Chan.
"Sometimes, you just want to get mad and scream," writes Wong.  "I think of Bruce in my worst moments—when I am discriminated against, when I am underestimated, when I am wronged. I think of Bruce when I speak up for myself against my better interests—when standing out is more important than blending in."
You can read more of Wong's thoughts on Bruce Lee in  Complex.
Then check out the top ten Bruce Lee moments from You Tube.