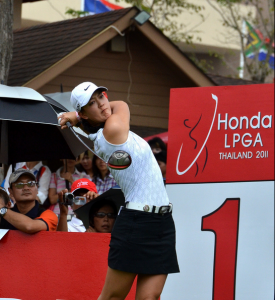 (Update 4: Michelle Wie is teeing off at 18 after hitting a birdy on 17. her lead is now up to 2 over Stacy Lewis.)
(Update 3: Michelle Wie's lead is now down to one stroke after a double bogey on 16. Stacy Lewis remains in second place and is watching from the clubhouse after wrapping up earlier in the day.)
(Update 2: Michelle Wie now has a three stroke lead over Stacy Lewis. Lewis had a strong day finishing with minus 4 for the day and even overall. Amy Yang is now five strokes back with Stephanie Meadow through 13.)
(Update: Michelle Wie is up by 4 strokes over Stacy Lewis and Amy Yang through ten holes)
Michelle Wie is right where she wants to be–in position to win her first major in her young career (Photo by Brez66).
Wie is tied for first with Korean Amy Yang in the US Women's Open going into the final round, reports ABC7/ESPN.
"I'm just grateful for another opportunity," Wie said after salvaging a 2-over 72 to tie Amy Yang. "Tomorrow I'm going to play as hard as I can and hope for the best."
Saturday, hit shot a round of 72 to give up the three stroke lead she started the day with.
Veteran Juli Inkster is in third four strokes back from the lead behind Wie and Yang.
You can read about some of the challenges Wie faced Saturday on ABC7/ESPN.