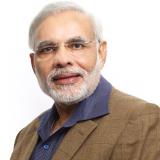 Newly elected Indian Prime Minister Narendra Modi may be invited to speak to a joint session of the US Congress, reports India Today.
"As you know, India is a critical partner of the United States," Rep Ed Royce and Rep George Holding wrote to House Speaker John Boehner. "In every aspect whether it be in political, economic or security relations the United States has no more important partner in South Asia. It is not an overstatement to say that the US-India relationship will be one of the defining partnerships of the 21st century,"
The two suggested that Modi be invited to speak to Congress when he comes to the United States in September.
Such an invitation would be quite a redemption for Modi who until his victory was banned from entering the United States because of his role in the riots in Gujarat in 2002.