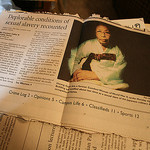 In a report that could fuel the controversy, an investigation by Japan has concluded that its 1993 apology to comfort women forced to work in military brothels came only after intense negotiations with South Korea, reports the Wall Street Journal.
Japan reiterated it still stands behind its apology, but this report will likely lead conservatives to increase the pressure to rescind the apology.
"This was something that was agreed upon between the governments of Japan and South Korea as part of diplomatic negotiations," a spokesman for Japan said about its report. "We can't make a unilateral decision to go ahead and revise it."
Seoul's Foreign Ministry expressed "deep regret" over the report.
"The Japanese government should clearly know that the international community, including the United Nations, will never tolerate the act of aggravating the victims' painful wounds under the pretext of verification," the statement said.
The report is being released at a time of increased tension between the two countries. You can read more about that in the Wall Street Journal.