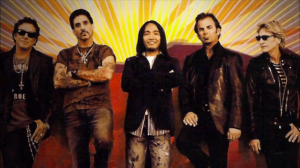 Suggestions by Journey lead singer Arnel Pineda that Steve Perry return to the band are meeting with less than enthusiasm by Perry himself, reports Hennemusic.
"I don't know who or what would make Arnel want to say such a thing," said Perry.  "He's their lead singer and I only wish him all of the very best! There is no reunion."
Last month, rumors began circulating that Perry would return to the band.
To that, Pineda said "He should come back. His voice is still there. [I] missed that voice… He can take over too.   It's his righteous place anyway. [I] wanna see them happy together."
Just a few weeks, one of the band members expressed his desire that Pineda stay with Journey, saying the band would not be able to continue without him.
Perry until recently has not performed live in nearly two decades until recently. You can read more about that in Hennemusic.