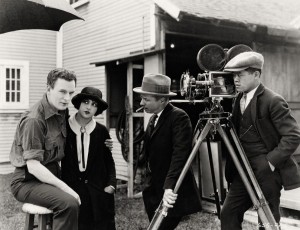 Hollywood cinematographer  James Wong Howe won two Academy Awards and was nominated for 10 more (pictured: Thomas Meighan, Estelle Taylor, Herbert Brenon (director) and James Wong Howe (cinematographer) on the set of The Alaskan – Paramount Pictures).
 Asian Fortune reports a program at the Smithsonian National Portrait Gallery using theater to tell Howe's life story to a new generation is in need of funding if it is to resume.
Jewell Robinson, the Portrait Gallery's program director, originally created the show in 2012.
"For many years, 'Cultures in Motion' program brings to audience at the National Portrait Gallery stories about all of the people who make up the diverse cultures in America," said Robinson, "I am also an actress and once I found out how many films Howe has done, I realized that I have seen a lot of his work without knowing he was the camera person on those projects."
Howe received an Academy Award in 1955 for his work on "The Rose Tattoo," starring Anna Magnani and Burt Lancaster, and in 1963 for "Hud," with Paul Newman. He died in 1976 with 125 films to his credit.
Unfortunately the Culture in Motion program was a victim of the budget sequestration, according to Robinson. But she says she still hopes to find a way to bring Howe's story to the public.
You can read a lot more about Howe's contributions to the film industry and how he overcame racial prejudice in Asian Fortune.