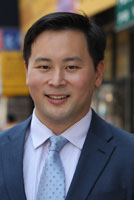 New York's first Korean American state legislator is calling for a change in the admission requirement into the state's elite public high schools, reports the New York Daily News.
 Assemblyman Ron Kim is backing NY Mayor Bill de Blasio's call to  expand the admission requirement beyond a single test and to include other achievements.
The topic is a particularly sensitive one to many Asian Americans since they comprise an overwhelming majority of the student population in many of the state's academic schools.
"My stand is that the reform can have a tremendous impact in helping Asian immigrant families prepare their kids for the 21st century," Kim said.
He said simply studying for a test is no long adequate to prepare students for their careers.
You can read more about his thoughts on the matter in the New York Daily News.