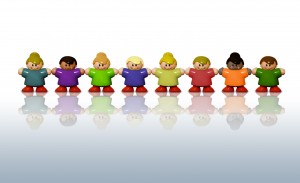 The face of America is ever changing.
New census data out confirms that the Asian and Hispanic population is growing in the US while the generational race gap between whites, Asians and Hispanics is widening.
The Pew Research Center reports the Asian population grew to 19.4 million between 2012 and 2013 with a growth rate of 2.9 percent.
61 percent of that growth is due to immigration and overall 74% of Asian adults in 2012 were foreign born.
On the other hand, births accounted for 78 percent of the total increase in the Hispanic population.
Both the Asian and Hispanic populations are concentrated in the west. California with 6.1 million Asians has the largest Asian population while Hawaii has the biggest share of Asians with 56 percent.
The Wall Street Journal reports that whites make up 79 percent of all people 65 and older but just barely over half of those 15 and younger. Overall 62.6 percent of the country is non-Hispanic white.
"What we are seeing here is just the tip of the iceberg as white baby boomers continue to retire and whites make up ever smaller shares of the child-bearing population," William Frey of the Brookings Institute said. "It suggests that even greater priority should be given to providing these young minorities education opportunities and other resources to be successful as members of the labor force."
 (Note from the editor: An early version of this story misstated the growth in the Asian American population)