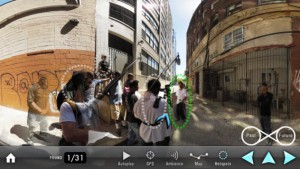 A new app offers a lens on Philadelphia Chinatown's past and present.
 Technical.ly reports the app now available on iTunes brings you visual images of the four block area on Pearl Street with Google Street View-like images. But the app also brings you back in time with pictures of what the area looked like previously.
In addition there are interviews with many of the people on Pearl Street.
The app is called Time Lens and was developed by artists Anula Shetty and Mike Kuetemeyer.
I just literally installed the app and the photos are visually appealing and fascinating. Shetty and Kuetemeyer's artistic impressions are immediately apparent. For this neophyte, it was not obvious how to advance from picture to picture, but then again I've spent 5 minutes with it. So don't consider this a review.
I was surprised to find that only one out of the 17 interviews with people are with Asian Americans.
You can read why these two developed the app in  Technical.ly.