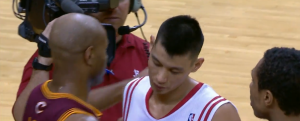 There's been tons of rumors throughout the last two years that the Houston Rockets plan to trade Jeremy Lin.
The rumors have been so rampant I stopped reporting them because none of them seem to ever come true.
This time the trade rumors appear to have more credibility.
 The Ultimate Rockets reports that the team needs to clear cap space to acquire a third superstar to go with Dwight Howard and James Harden.
Lin who's in the final year of his contract will earn 15 million next season. $8.3 million of that would count toward the salary cap.
The point guard seems to have accepted the notion that he may not be with the Rockets next season.
"Next year will be my fifth season, so my first year and a half, I dealt with my name being surrounded with getting cut and things like that," Lin said. "Then it was my name being surrounded with trades. So I would much rather take the second one than the first. I am not really too worried about it."
Of course, all of this could get thrown out the window of the Rockets can't acquire a star like Carmelo Anthony or Lebron James.