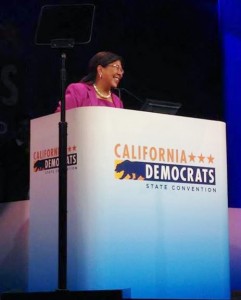 In the tightest statewide race of the June primary, Board of Equalization member Betty Yee edged out former Assembly Speaker John Perez to earn the final spot in the runoff for State Controller, reports the Los Angeles Times.
Yee declared victory with a margin of  just 484 votes and, if certified, will face off against the first place vote getter– Fresno Mayor and Republican Ashley Swearengin.
With more than half of the ballots submitted by mail, it took weeks to count the results from the June 3rd election.
Lake County was the last to complete its count, but has yet to certify the results.
 KPCC reports for the vote to be official, the results must be certified and the Lake County Board of Supervisors must ratify the vote. Then the results must be sent to the Secretary of State to be added to the total.
Perez is refusing to concede until the vote is ratified.