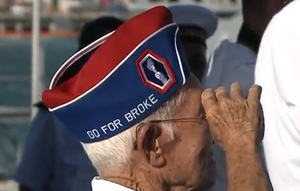 The government of France honored six members of the 442nd regimental combat team with the French Legion of Honor Wednesday night, reports KHON.
It is France's highest award.
It was granted to the six for their role in liberating France during World War II.
"We were all volunteers. We weren't thinking about a medal or anything like that. I was only 24 when I went into combat. That'spretty young. You know," said Shuji Akiyama, French Legion of Honor recipient.