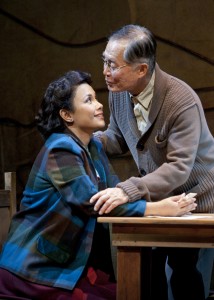 The story of actor and activist George Takei is an open book (photo of Takei with Lea Salonga in Allegiance).
Takei has told his life story many of times.
He recently gave a captivating Ted Talk which began with his memories as a four-year old looking out the window and seeing soldiers approaching his home to imprison his family in an incarceration camp.
When you hear him tell his life story, and advocate for his many social causes, you might suspect Takei is a bitter man.
But he is not. His talk ultimately is the story of democracy and why he's proud to be an American.
I'll pick up his story after the end of World War II and his family was released from Tule Lake Incarceration Camp in California.
"My parents worked hard to get back on their feet," said Takei. "We lost everything. They were in the middle of their lives and started all over. They worked their fingers to the bone. Ultimately they were able to get the family together to buy a three bedroom home in a nice neighborhood."
Still his childhood experience being imprisoned left a deep impression on Takei. He struggled to balance the ideals of life, liberty and the pursuit of happiness with his childhood imprisonment.
He engaged in conversations with his father about his experience and those discussions often turned heated.
"He was the one that suffered the most under those conditions of imprisonment. Yet, he understood American Democracy. He told me our democracy is a people's democracy and it can be as great as the people can be. And it is also as fallible as people are.
"He told me American democracy is widely dependent on good people who cherish the ideals of our system and actively engage in making our democracy work. He took me to a campaign headquarters. The governor of Illinois was running for the presidency and introduced me to electoral politics."
Takei also told the story of the 100th Infantry Battalion and the 442nd Regimental Combat Team. The Japanese American military units left the United States strangers in their own country. They returned as conquering heroes and the 442 was the most decorated war unit in US Military history.
"They were greeted back on the White House lawn by President Truman who said to them, you fought not only the enemy, but prejudice and you won. They are my heroes. They clung to their belief of the shining ideals of this country and they proved that being an American is not just for some people. That race is not how we define being American. They expanded what it means to be an American including Japanese Americans who were feared, suspected and hated. They were change agents and they left for me a legacy.
"They are my heroes and my father is my hero who understood democracy and guided me through it.They gave me a legacy and with that legacy comes a responsibility and I am dedicated to making my country an even better America, to making our government an an even truer democracy.
"Because of the heroes that I have, and the struggles that we've gone through, I can stand before you as a gay Japanese American, But even more, I am a proud American.
You can watch the video below.
And you can also watch this cool video of fireworks shot from a camera mounted on a drone. Thanks to Emil Guillermo for bring this video to my attention.