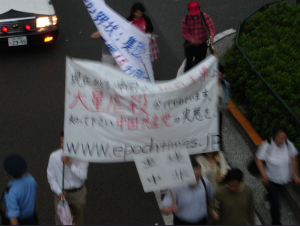 A pro-Falun Gong newspaper, the Epoch Times, is accusing the government of China of monitoring its citizens in the United States and threatening them for speaking out against the Chinese communist party (photo by Joe Jones).
"It's very common knowledge," said Judy Chen who came to the US from Taiwan. "If you speak about the Chinese Communist Party, even among co-workers, they'll tell you to watch what you say."
Chen says Chinese residents in China will sometime report people to the Chinese Embassy and, in exchange, are rewarded by the Communist government with more business opportunities from China and price cuts, as well as the knowledge their relatives in China are safe.
The paper also reported that one Falun Gong practitioner who returned to China was promptly arrested.
"We don't know who reported her," Chen said. "She was quiet. The only thing she did was hand out fliers a couple times on Main Street."
You can read other ways the Chinese government is accused of retaliating against its ex-pats in the Epoch Times.