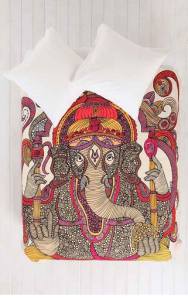 Christian & Jewish leaders have come to the support of perturbed Hindus who are urging for the immediate withdrawal of duvet cover carrying image of Lord Ganesha sold by a Philadelphia (USA) headquartered firm Urban Outfitters, calling it inappropriate.
 Reverend Richard L. Smith, a United Church of Christ pastor in Nevada, says that a global company like Urban Outfitters should not be in the business of hurting the feelings of devotees of any religion with inappropriate usage of its deity. He urged the retailer to recall its duvet cover carrying image of Hindu deity Ganesha.
 Rabbi ElizaBeth Beyer of Northern Nevada and California supports the request asking Urban Outfitters to reconsider its marketing and selling of an item of Hindu faith to be used as bedding.  Commercialization of a Hindu god is hurtful to devotees.  Prompt action to remove this item from Urban Outfitters website and avoid it being sold in the future is requested.
 Hindu statesman Rajan Zed, who spearheaded this protest in a statement in Nevada said that it was very sad that despite being informed nine days ago about Hindu concerns about this item, Urban Outfitters had neither contacted them and nor the Ganesha Duvet Cover had been removed from its website.
 Zed, who is President of Universal Society of Hinduism, pointed out that businesses should be more sensitive to the feelings of faithful of all religions. Urban Outfitters should show some maturity by immediately recalling the Ganesha Duvet Cover and apologizing to Hindu community as this trivialization of highly revered Hindu deity continued to hurt their sentiments. Symbols of any faith, larger or smaller, should not be mishandled, Zed noted.
 Rajan Zed further says that the store's actions do not match its claims as it boasts of its "established ability to understand our customers and connect with them on an emotional level".
 The duvet cover which Hindu devotees are finding objectionable is claimed to be Made in the USA and is priced at $129.00-$169.00 on the website. Urban Outfitter's website describes it as "UO Exclusive" and "topped with a standout illustration by the talented Valentina Ramos".
 In Hinduism, Lord Ganesha is worshipped as god of wisdom and remover of obstacles and is invoked before the beginning of any major undertaking. Hinduism is the oldest and third largest religion of the world with about one billion adherents and moksh (liberation) is its ultimate goal. There are about three million Hindus in USA.