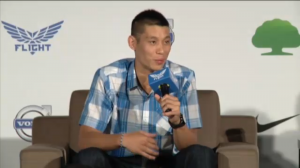 The Houston Rockets have traded Jeremy Lin and a future first round draft pick to the Los Angeles Lakers , reports ESPN.
The Rockets traded away Lin despite not getting Chris Bosh who resigned with the Miami Heat for five years, $118 million.
Houston reportedly is no longer in the running for Carmelo Anthony, but that is not confirmed.
The Rockets had intended to match the Dallas Maverick's offer to restricted free agent Chandler Parsons after signing Bosh. But with Bosh sticking with the Heat, that is up in the air.
With the injury prone Steve Nash now 40, it will be interesting to see if the Lakers give Lin a chance to return to the starting line up. The Lakers on draft day traded for Filipino American point guard Jordan Clarkson. But Jordan is a rookie.
AsAmNews reported last month that a Rocket trade of Lin appeared imminent and we were correct. There were rumors that Lin would be traded to Philadelphia, but those reports were obviously wrong.