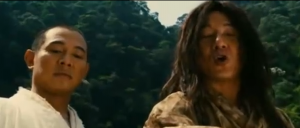 The AMC cable network has announced it will air Badlands, a drama based on the Chinese tale Journey to the West, reports Crienglish.
Hong Kong based actors Daniel Wu and Stephen Fung have been asked to assist with the show's martial arts choreography, but there's no word on who will be cast for the show.
Hopefully the show will not be whitewashed and that an Asian American actor will get to play a lead role.
In Badlands, a great warrior and young boy set off on a journey across a dangerous land.
Journey to the West also inspired the 2008 film The Forbidden Kingdom starring Jackie Chan and Jet Li.
Who would you like to see cast in Badlands?