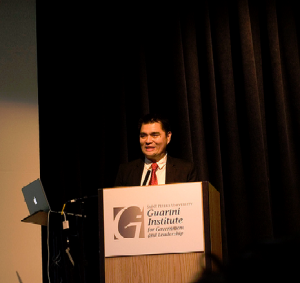 UPDATE 6:33 Eastern: Jose Antonio Vargas has been released from custody by immigration authorities and ordered to return at a later date for a hearing, reports the Los Angeles Times.
"As an unaccompanied child migrant myself, I came to McAllen, Texas, to shed a light on children who parts of America and many in the news media are actively turning their backs on," Vargas said following his release in a statement from the group he founded, Define American. "But what I saw was the generosity of the American people, documented and undocumented, in the Rio Grande Valley.
"I've been released by Border Patrol. I want to thank everyone who stands by me and the undocumented immigrants of south Texas and across the country," he said. "Our daily lives are filled with fear in simple acts such as getting on an airplane to go home to our family."
Earlier today, the symbol for immigration reform, had been detained at a Texas Airport by US authorities, reported CNN (Photo by Krystal Nurse).
He was detained by border patrol in McAllen after he went down there to highlight the plight of children who escaped Central America and its increased levels of violence.
In a statement, Cristina Jimenez, Managing Director of United We Dream said:
"We stand in solidarity with Jose Antonio and demand for his immediate release, but we must remember that there are thousands of people along the border that live with this same fear every day."

"Once again, the Border Patrol has proven to be a rogue agency after arresting Jose Antonio, a low-priority case for detention and deportation."

"Our undocumented community along the border is trapped within its own country, unable to leave and surrounded by checkpoints. It's immoral that people aren't free to move around the country they know as home because of a system that seeks to criminalize them."

"United We Dream will continue to demand a vast expansion of DACA, one that eliminates age-caps that have made Jose Antonio and many other Dreamers ineligible, and one that includes the parents of Dreamers and U.S. citizens."
Vargas wrote the documentary Undocumented which has aired across the country and nationally on CNN.
The Pulitzer Prize winning journalist has openly told his story of coming to America at age 12 and not discovering he was illegal until 4 years later when he applied for his driver's license.
He is too old to qualify for temporary relief from deportation under President Obama's Deferred Action for Childhood Arrivals program. DACA offers two years of relief from deportation for undocumented immigrants who came to the United States before the age of 16 and had not turned 31 before June 15, 2012.