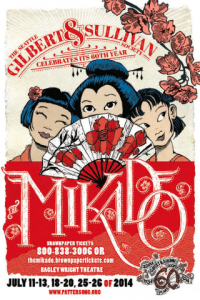 According to Seattle's own website, the city is 13.7 percent Asian American Pacific Islander.
In all, nearly 77,000 AAPIs live in Seattle.
Apparently there's not an actor among them.
Sharon Chan in the Seattle Times reports the Seattle Gilbert & Sullivan Society is performing a comedic interpretation  of  The Mikado in which all 40 Japanese characters are being performed by white actors, with the exception of two Latinos.
As Chan so eloquently puts it, "it's yellowface in your face."
Producer Mike Storie defends the production by saying its "a fun show" and he's never heard any complaints. He counters "Should Tom Sawyer and Huckleberry Finn be taken off library shelves?" he said. "Huckleberry Finn is all full of slaps on black people."
To that, Chan asks if Storie would consider putting on Huckleberry Finn with a "white actor with shoe polish smeared all over his face" and Storie acknowledges he wouldn't.
Perhaps worst than Stories defense are some of his allies who have posted comments on the Seattle Times page.
"Please let us make fun of Asians, so we can vent our anger toward them. This is really all we can do to fight their eventual take over of our country," wrote one commenter.
"I agree. You Asians are all look the same, so why not cast a White person so we can actually differentiate the characters," wrote another.
Seattle Times Reader Greg Watanabe added some common sense to the comments section.
"It's not a matter of censorship.  One is free to create racist art (infringing on the civil liberties others, notwithstanding).   But it's still racist, and I applaud those who continue to call it out when they see it," wrote Watanabe. " Especially when it's a popular piece that many people enjoy.  I think it's incredibly valuable for an audience member to see another perspective of a piece, especially if it involves a representation of another race or culture."