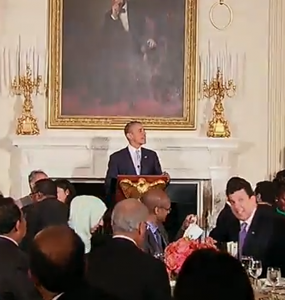 The American-Arab Anti-Discrimination Committee lead a boycott Monday night of an annual White House Iftar dinner marking the end of Ramadan, reports the Washington Post.
The ADC accused President Obama of condoning the killings of Palestinians in Gaza and spying on Muslim Americans.
"We ask that all government iftar invitees stand together on behalf the community and reject the normalization of the continuous breach of our fundamental rights," the statement said. "Political engagement is important and having a seat at the table is crucial — but only when that seat is intended to amplify our voice as a community, not tokenize or subdue it."
A presidential spokesman said "we certainly respect the differences that some people may have on this. … But we would not want that to overshadow the efforts of the president and other senior administration officials to pay tribute to the contribution that so many American Muslims play in their communities."
You can read the President's remarks on the Palestinian Israeli conflict in the Washington Post.