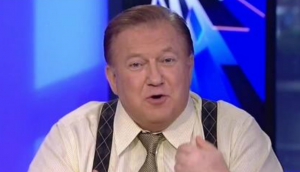 The Hollywood Reporter is reporting that Chinese netizens are now responding to the use of a racial slur by Fox News host Bob Beckel during a rant about China.
CCTV aired the Beckel clip and reposted it on Weibo.
One Weibo user said "Of course it's understandable that a swine in a pig sty would say swine words."
Beckel apologized earlier this week, but that apology was highly disregarded by many who saw it as being insincere.
You can read more about that in Fox News host issues half-hearted apology for racial slur.
"Of course it's understandable that a swine in a pig sty would say swine words." – See more at: http://www.hollywoodreporter.com/news/chinese-media-blast-fox-news-718957#sthash.tdAaXjcE.dpuf
"Of course it's understandable that a swine in a pig sty would say swine words." – See more at: http://www.hollywoodreporter.com/news/chinese-media-blast-fox-news-718957#sthash.tdAaXjcE.dpuf
"Of course it's understandable that a swine in a pig sty would say swine words." – See more at: http://www.hollywoodreporter.com/news/chinese-media-blast-fox-news-718957#sthash.tdAaXjcE.dpuf
"Of course it's understandable that a swine in a pig sty would say swine words." – See more at: http://www.hollywoodreporter.com/news/chinese-media-blast-fox-news-718957#sthash.tdAaXjcE.dpuf
"Of course it's understandable that a swine in a pig sty would say swine words." – See more at: http://www.hollywoodreporter.com/news/chinese-media-blast-fox-news-718957#sthash.tdAaXjcE.dpuf