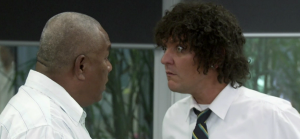 Members of the Tongan community fear a new six part mockumentary scheduled to debut next month on HBO is racists.
They've launched a  petition drive to stop the show Jonah from Tonga from airing, reports Deseret News.
Jonah is a character of Tongan descent. He's played by a white actor in brown face and a wig.  Jonah and his friends are portrayed as gang members, bullies and underachievers. Critics say the white characters are all overachievers providing quite a stark contrast.
"He's painted a picture not only to look like one, but some stereotypes that are very offensive to our Tongan community, which does not represent the values and virtues that we have as Tongans," said Tevita Kinikini, an academic adviser of Pacific Islander programs at the University of Utah.
The petition on Change.org to stop the show from airing already has nearly 4500 signatures.
So far there's been no response from HBO.
You can read reaction to the show from those who work closely with the Tongan community in Utah in the Deseret News.