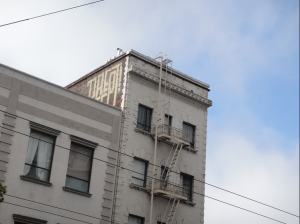 For most of us fortunate to  live in comfortable homes, life in one of Chinatown's single room occupancy hotels would be almost unbearable (Photo by Adriel Hampton).
But for many Chinese immigrants in San Francisco's Chinatown, it is a way of life.
 KALW visited the home of Lee Ming Dang, her husband and two teenage children.  It's a 7 x 7 foot apartment with two beds and virtually little room for anything else.
"My daughter and I sleep on the bottom bunk," Lee says.  "My husband and son share the top bunk."  All eating, sleeping and studying is done on those two beds.
According to KQED, there are 530 SRO hotels in San Francisco, housing more than 18,000 in Chinatown and the Tenderloin, a low income neighborhood with a large South East Asian population.
Lee pays $300 a month in rent. The average rent is between $500 -$600 dollars, but its not uncommon for SRO tenants to pay at much as a $1,000 for an 8 x 10 foot room.
Many Chinatown residents have banded together to form the Community Tenants Association is the hopes of improving their living conditions.
You can read about their efforts on KALW. You can read a photo essay on San Francisco's SROs on KQED.