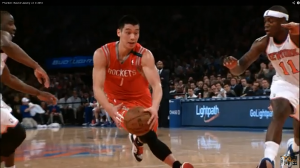 All indications point to Jeremy Lin playing a bigger role for the Lakers this season.
Lin told reporters Los Angeles promised him a more playing time  than he had with the Houston Rockets.
Eveything he's said since then seems to point in that direction.
"I wish my role could become bigger and more important, and I also wish I could get more playing time next year," Lin said in Focus Taiwan.
The 25-year old point guard says he relishes the opportunity to play with Kobe Bryant and Steve Nash.
"Kobe wants to win and I want to win. I think Kobe wants his teammates to train hard and I will train hard. I hope he can respect me and we can collaborate well together," Lin is quoted as saying in the Gulf Times.
Unless the Lakers add to their line up before next season, it appears likely Jeremy Lin will become a starter for the Lakers. The team just waived point guard Kendall Marshall, reports the sports blog. Steve Nash, who is now 40, averaged just 20 minutes a game last season. A possible scenario would have Lin starting and playing the bulk of the minutes, but the veteran Nash coming in and taking over the point guard position at crunch time.
A wildcard is rookie point guard Jordan Clarkson, a Filipino American who played well for the Lakers in the NBA Summer League.