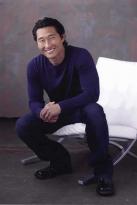 CBS News continued its series of interviews with major figures in the arts, business and politics by talking to Daniel Dae Kim of Lost and Hawaii Five-0 fame about his experiences with the civil rights movement.
Kim disagrees with those who maintain Americans live in a post racial society.
"To those people, I will only say, "Walk a mile in a minority's shoes, and you will see that we do not live in a post-racial society."
Kim says the good news is that we are headed in the right direction. " The diversity that we have now is probably the most we have had in the history of our country, and what is considered America today is probably more inclusive — no, not "probably," I would definitely say it's more inclusive — than at any time in our history."
You can listen to Kim's thoughts on a post racial society in the clip below and read about some of those in the civil rights movement who inspired him on CBS News.