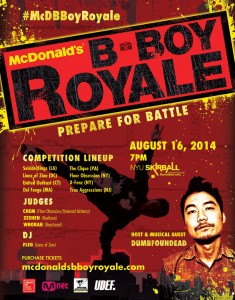 A new breakdancing competition hosted by McDonald's New York Tri-State is targeting young Asian Americans, the latest in a trend of nontraditional marketing tactics aimed at multicultural audiences, reports MediaPost. (Picture courtesy McDonald's New York Tri-State)
McDonald's B-Boy Royale is being marketed as the "first annual" event of its kind and "New York City's largest breakdancing competition." The event will feature eight U.S. breakdancing crews with Asian American "breaker boys" or b-boys competing for the first- and second-place prizes of $3,000 and $1,000, respectively.
Korean American rapper and YouTube artist Dumbfoundead will be hosting the event. Mnet and Coca-Cola are also listed as sponsors of the competition.
According to MediaPost, the event sponsors are hoping to enhance brand loyalty among millennials in the the rapidly growing Asian American consumer market. Asian Americans are the fastest-growing racial group in the United States, and their collective buying power is projected to reach $1 trillion by 2017.
McDonald's B-Boy Royale will be held Aug. 16 at 4 p.m. at New York University's Skirball Center for the Performing Arts. Tickets are being sold at $15 and $20 and all proceeds will benefit Ronald McDonald House Charities.
You can read more about the competition at MediaPost.