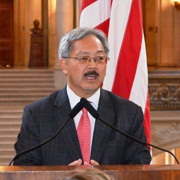 The San Francisco Chronicle is reporting that an FBI undercover agent contributed $20,000 to the campaign of San Francisco Mayor Ed Lee as part of the agency's corruption probe.
The donation was part of the same sting that ended in the arrest of California Assemblyman Leland Yee, Raymond Shrimp Boy Chow and 27 others.
Sources tell the Chronicle the same operation also went after former 49er and NFL Hall of Famer Joe Montana. Both the probes of Lee and Montana came up empty.
Those sources also say the judge in this case, U.S. District Judge Charles Breyer, is concerned that Mayor Lee and Montana will be subjected to unfair scrutiny.
You can read more about how this sting went down in the San Francisco Chronicle.