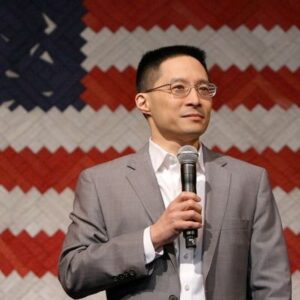 The recent controversy over Fox News host Bob Beckel's use of the word Chinamen during an on air tirade about China upset former Clinton speech writer Eric Liu.
Yet Liu himself uses the word Chinaman in the title of his new book, A Chinaman's Chance.
It's an irony that Liu himself acknowledges in an article he wrote for the Atlantic When to Use Ethnic Slurs: A Guide.
The controversy is nothing new. African Americans have long debated the use of the N word among themselves.
More recently, Asian Americans criticized the title of Eddie Huang's television memoir Fresh Off the Boat as insulting to Asian immigrants.
Is it about reclaiming a slur as your own or reinforcing it by using it? It's a controversy that likely won't go away with one article.
For me, it's a case by case basis. The title of Liu's book is a phrase used historically to refer to the dangerous and sometimes deadly jobs given to Chinese hired to build the transcontinental railroad. The subtitle of Liu's book is One Family's Journey and the Chinese American Dream. 
The irony in the book's title is apparent, and thus appropriate in that context. I feel the same say about Fresh Off the Boat.  Huang is screaming to the world how proud he is to be a successful Taiwanese immigrant.
However, I also recognize there's a danger in using these slurs even if your intentions are good.  For instance in Liu's case, the reader may not have the historical context and just assume that the word Chinaman is an appropriate way to refer to Chinese Americans.
Language if fraught with danger. It can easily be misinterpreted. Using a slur even in a self affirming way is not something that should be done without first giving it a lot of thought. To put it simply, it's risky.