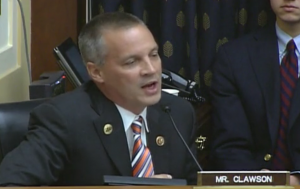 A rookie Congressman from Florida thought two Indian Americans were officials from India during a Congressional hearing today, reports the Daily Mail.
"I'm familiar with your country. I love your country," Rep Curt Clawson (R-Florida) said to Nisha Biswal and Arun Kumar who are both U.S. government staffers. Clawson asked the pair for "cooperation and commitment and priority" from your government" in investment rules.
You can watch the exchange in the clip below and the reaction from Biswal.
When informed of his error, Clawson a former basketball player apologized.
'I'm a quick study, but in this case I shot an air ball.'