Guest Blogger
Following the likes of Facebook, Google, Yahoo, and Linkedin and pressure from civil rights groups, Twitter finally released its diversity report this past Wednesday. The report showed Twitter's global workforce is 70% male and 59% white, and even more white and more male in leadership.
In the United States Twitter is 29% Asian, 2% African American, 3% Hispanic,  1%  Native Hawaiian or Pacific Islander, less than 1% American Indian or Alaska Native, 3% is self-identified other, and 3%  bi-racial.
"We are keenly aware that Twitter is part of an industry that is marked by dramatic imbalances in diversity—and we are no exception," the report on Twitter blog says.
Major media outlets covered the story, but they simplified statistics in order to cater to a common denominator. USA Today reported "In the US, nearly 90% of Twitter's workers are white or Asian." The Associated Press reported "In the U.S., nearly 90% of Twitter's workers are either white or Asian…More than 90% of Twitter's technology jobs in the U.S. are being handled by whites and Asians." Time Magazine reported "When it comes to racial diversity, 88% of all Twitter employees and 92% of tech employees are either white or Asian (mostly white)."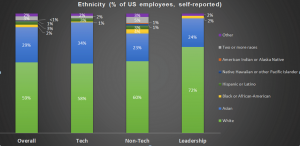 (Twitter Blog Post graphic)
I applaud major technology companies for acknowledging the importance of diversity and taking some responsibility for a lack of diversity in the workplace, especially among leadership positions. However, media outlets must be careful how they portray statistics.
While it does not preclude a lack of representation for other racial groups, when the media combines whites and Asians into a single demographic group, they are essentially ignoring the diversity among the Asian Americans.
Experiences of whites in the United States are very different from experiences of Asians in the United States, and even more different if you disaggregate among the Asian sub-groups. By taking the steps needed to raise awareness of importance of diversity, not just on companies' bottom lines but also on the corporate and societal culture, technology companies can pave the way to increase opportunities for women and people of color. But the media must not over simplify.