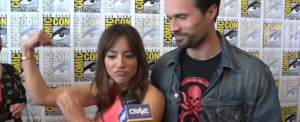 Chloe Bennet Wang who plays Skye in the ABC series, Marvel: Agents of S.H.I.E.L.D.revealed to Crave during Comic Con that her character Skye will get a lot more physical in season 2.
"She (Skye) is turning a new leaf and stepping up to her duties and there's a more serious side of Skye," said Bennet.
She also jokes there are twin hulks in her future with Grant Ward. You can see the entire interview below.
.
Meantime, co-show runner and executive producer Maurissa Tancharoen let on to Crave that there will be a big shift between season 1 and season 2. (note: in an earlier version of this story, we repeated an error made on Crave and incorrectly identified Maurissa. We apologize for the mistake).
"In season 1 we are this huge shadow organization and now going into season 2 its safe to say we've been driven underground.