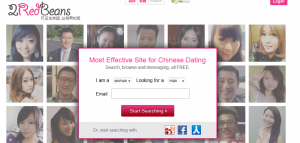 An online dating site targeting Chinese Americans living in North America has filled a need not met by more general sites like eHarmony or match.com, reports the China Daily.
2RedBean serves single Chinese Americans searching for both a soul mate and a cultural bond.
"I found many services were quite general when they do the matching, while Chinese Americans have certain preferences when they look for someone," said Zhao Qinghua, founder of 2RedBean.  "So I thought services provided by 2RedBeans will help many Chinese people in the US and Chinese Americans who tend to find people of the same heritage and cultural values."
2RedBean bases its matches on cultural attitudes, beliefs and categories.
"Our research shows that Chinese American users are interested in certain elements such as the potential match's status in the US (either Green Card or citizenship), and the birthplace (which decides if the person is an immigrant or born in the US)," said Zhao.
Among the most sought after dates on the site, female users from Taiwan and among the most aggressive, men from Hong Kong.
You can find out what others say about 2RedBean in the China Daily.