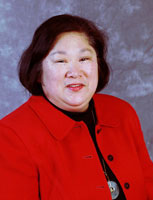 President Barack Obama announced July 24 his nomination of Japanese American civil rights leader Karen Narasaki to the U.S. Commission on Civil Rights, reports Rafu Shimpo.
Narasaki is best known for her role as the former president and executive director of the Washington, D.C.-based Asian American Justice Center from 1995 to 2012. Prior to her position at AAJC, she served as the Washington, D.C. representative for the Japanese American Citizens League from 1992 to 1994.
Narasaki is one of nine individuals nominated to the Commission on Civil Rights.
"I am proud that such experienced and committed individuals have agreed to serve the American people in these important roles. I look forward to working with them in the months and years ahead," Obama said Thursday following the announcement of the nominations.
Originally from Seattle, Wash., Narasaki completed her undergraduate studies at Yale and graduated with a J.D. from the UCLA School of Law. She began her career as a law clerk before entering the corporate world as an attorney for Perkins and Cole in 1986. Narasaki eventually set her sights on civil and human rights, and is known for her contributions to diversity and television representation on behalf of Asian Americans.
Currently, Narasaki chairs the Asian American Diversity Advisory Council for Comcast/NBCU and co-chairs the Asian American Advisory Council for Nielsen.
You can read more about her accomplishments at Rafu Shimpo.