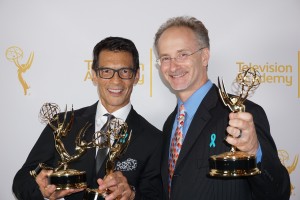 Witness: The Legacy of Heart Mountain has been honored with three Emmy
Awards by the 66th Annual Los Angeles Area Emmy Awards.
David Ono, co-producer, won for Outstanding Writer – Programming and
Jeff MacIntyre, co-producer, won for Outstanding Editor – Programming and
Outstanding Videographer – Single Camera Programming.
"This isn't just a win for the show, it is a win for the entire Japanese
American community," MacIntyre said. David Ono believes that the stories
are so rich that they write themselves, "I'm deeply honored to have the
opportunity to keep these important stories alive. Over 70 years later, they
are still so relevant."
Witness has also received a Radio Television Digital News Association's
(RTDNA) Edward R. Murrow Award and the RTDNA's National Unity Award, which
honors outstanding achievements in the coverage of cultural diversity in
the communities they serve.
Ono and MacIntyre look forward to more opportunities to screen the
documentary across the country. In addition to airing on KABC-TV, Los Angeles and
KGO-TV, San Francisco, the film has been screened in Los Angeles,
Portland and at the Heart Mountain Interpretive Center in Cody, WY. The pair is
also scheduled to show the documentary at Washington State University in
Pullman, Washington on October 15, 2014. For more information on the film and
future screenings, please www.HeartMountainFilm.com.
Since 1996, David Ono has been the co-anchor for ABC7 Eyewitness News in
Los Angeles, California. Jeff MacIntyre is the owner of Content Media Group,
a Los Angeles-based production company. Together, the two have traveled
the world covering important events and telling stories that matter.
Collectively, they've earned over 25 Emmy Awards.