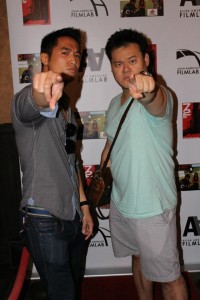 If you didn't make it to New York's Asian American International Film Festival to see the premier of the top ten films of the annual 72 Hour Film Shootout competition, don't fret.
AsAmNews has got you covered. All ten films are below.
The films will also screen at the Asians on Film Festival in Los Angeles and have a chance to be televised on Film Lab Presents on NYCLife in New York and CrossingsTV.
This was the 10th year of the shootout, a competition in which filmmakers have 72 hours to make a film related to the theme of the year. The competition is put on by the Asian American Film Lab, a non-profit dedicated to promoting and creating opportunities for Asian American filmmakers.
The Shootout, an integral part of the AAIFF, celebrates the creativity and genius of the directors, their casts and crews as they share stories by, about and for Asian Americans and other filmmakers of color with the world. AAIFF has played a vital role in discovering and nurturing such acclaimed talent as Wayne Wang (THE JOY LUCK CLUB), Ang Lee (CROUCHING TIGER, HIDDEN DRAGON, BROKEBACK MOUNTAIN), Mira Nair (THE NAMESAKE), Zhang Yimou (HOUSE OF FLYING DAGGERS), Christine Choy (WHO KILLED VINCENT CHIN?), Steven Okazaki (THE MUSHROOM CLUB), Jessica Yu (PING PONG PLAYA), and Justin Lin (FAST FIVE).
If your favorite didn't win, there's still a chance. You can vote for the audience choice awards. Check out the top 35 films and vote for your favorite. Watch for the rollout for these films at http://www.asianamericanfilmlab.org/72-Hour-Shootout.html, then vote by sending a tweet to @asamfilmlab using #72HrSO and the name of the film.
First, here are this year's top 10 films from the 72 Hour Shootout.
1. GRAND PRIZE: Return, Team Moon Jacket, team captain: Jesse Hsu
2. . FIRST RUNNER UP: Himitsu, Third Curtain Productions Captain: Steven Gee
3. SECOND RUNNER UP: Memory 317, Filter Switch Films Captain: Michael Tang (also best director)
4. Underneath the Grey, Enmaze productions Captain: Patrick Chen
5. Dyed, Team Romix Rommel Andaya
6. Five Years, Team Breaking Sky* Also won Best Cinematography: D.B. Cheng; Best Actor: Victor Pham
7. Family Matters aka Family First, Team Launch Pictures David Rock
8. The Split End, Team Soy Sauce Chicken Eddie Shieh
9. Take Out, Team J2 Jonathan Lee NYC Best Actress: Olivia Oguma
10. America's Top Hairball, Team Dayside Productions Girard Tecson