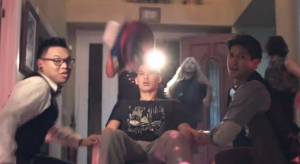 Jeremy Lin always seem to be in the best videos.
His latest is a co-production with with Hollywood star Harry Shum Jr along with You Tube stars AJ Rafael and Philip Wang
The three try to cheer Lin up thinking he's down because of some recent mean tweets.
But Lin sets them straight and says its really the playoff loss to the Portland Trailblazers that has him depressed.
Watch how the three work their magic on Lin.