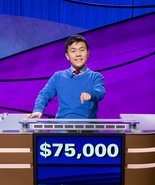 High school senior Jeff Xie walked away with $75,000 tonight after winning the Teen Jeopardy championship, reports NJ.com.
The 17-year old from Edison, NJ gave the correct answer to a tie breaking clue to be declared the winner. Xie won the tournament in March, but the show was not aired until tonight.
"When the tiebreaker category 'The Civil War' was announced, I was excited because history is a strength of mine." said Xie. "When I saw 'Shiloh' I knew the answer."
You can read about how Xie qualified for the tournament in NJ.com.