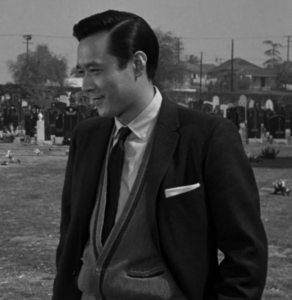 Perhaps nothing says more about the portrayal of Asian American men in Hollywood than this.
Jeff Yang reports in his blog for the Wall Street Journal that actor James Shigeta, who passed away this week, is the last Asian American man to be cast in a romantic lead role by Hollywood.
Shigeta starred in the classic Flower Drum Song as Wang Ta, an American born Chinese torn between two women. That was in 1961. An incredible 53 years have passed.
Two years earlier, Shigeta starred in The Crimson Kimono which featured the first kiss between an Asian man and white woman in American movies.
"I knew James from seeing 'Flower Drum Song,' and I was spellbound by his charisma," says Quentin Lee who directed Shigeta in his last film, The People I Slept With . "I was lucky enough to capture James in his last feature as a fun loving and wise Asian American dad, breaking the stereotype of the stern and first generation Asian American dads in popular media."
You can read more about the significance of Shigeta to Asian Americans in the Wall Street Journal.