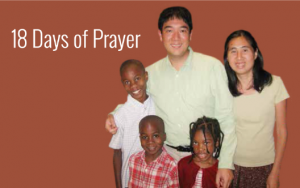 The State Department is urging the country of Qatar to allow a Chinese American couple to return to the United States after their conviction in what the US considers an unfair trial, reports CNN.
Matthew and Grace Huang were sentenced this year to three years in prison for the wrongful death of their adopted daughter. Prosecutors accuse the couple of starving their daughter to death and raised questions about why a Chinese American couple would adopt children from Africa. Matthew was working for a construction firm in Qatar at the time of the couple's arrest.
The State Department has questioned whether the evidence was looked at fairly in the couple's trial and other groups including the California Innocence Project has raised similar issues.
On Wednesday, Grace's brother Daniel Chin met with officials in Washington and expressed concern the couple had been forgotten by its own government.
"Our family cannot afford to take people's word," Chin said. "We are starting to feel as if the State Department is abandoning Matt and Grace and our family."
The following day the State Department issued a statement. "We also urge the Qatari government to lift the current travel ban and allow Mr. and Mrs. Huang to return home to the United States to be reunited with their two sons and the rest of their family,"
The case is made more complicated by the United State's relationship with Qatar. You can read more about that on CNN