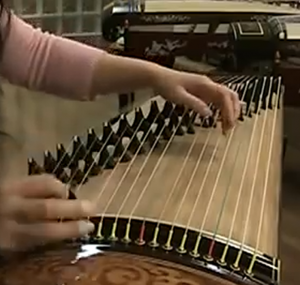 Hong Viet Hai remembers arriving to the United States at the age of 13.
The teenager brought his passion for the 16 string Vietnamese instrument, the dan tranh, with him to America, but found he had very little time to pursue his lessons.
But Hai held on to his dream and by his senior year of college, he became reacquainted with the dan tranh and devoted much time to the instrument even as he obtained his masters and doctorate degrees in acupuncture and Oriental medicine.
Today, the Saigon GP Daily reports that he's passing on his passion to others, and is now teaching classes on the dan tranh.
"During my first years living in the US, it was only the sound of traditional Vietnamese music that moved me," the 35-year old says. "I don't see this as really a class. I just want to share my knowledge of traditional music to those who love it."
He has since returned to Vietnam to perform and has formed his own musical group. You can find out more about that in Saigon GP Daily.
Although the clip below isn't of Hai performing, it gives you a taste for the instrument he loves.