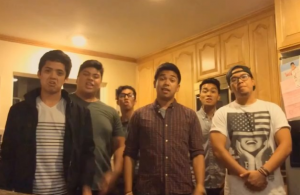 A Filipino American a cappella group which first came to prominence during the NBC competition The Sing Off has landed a singing role in the upcoming movie Pitch Perfect 2 starring Elizabeth Banks, reports Rappler.
The group is made up of mostly first generation Filipino Americans, a fact they don't run away from.
"Being Filipino means so much to me, and it's influenced our lives in so many different ways," said Jules Cruz in their Sing-Off introductory video.
The Filharmonics will play one of the groups competing against the Bellas in Pitch Perfect 2.
Beyond that, they see themselves releasing original tunes on their own album in the near future.
"The tendency of a lot of a cappella groups is to aim for an electronic sound since the a cappella group Pentatonix is finding so much success," said Cruz. "In contrast, we've sort of found our niche to be more of an R&B/jazz feel incorporated into top 40 hits."
You can read more about the group's connection to their Filipino heritage and the group's sound in Rappler.