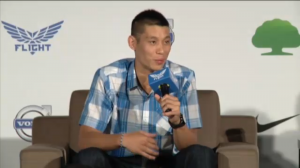 Jeremy Lin credits the passionate support of his fans for much of his success.
That's why he's holding his second Fan Appreciation Week beginning today on social media. You gotta love, Jeremy. I don't know this for sure, but I imagine he's one of the few athletes who does something like this. Many teams hold fan appreciation events. Very few players have the brand like Jeremy to hold their own, independent of their team.
Those that follow Jeremy on Facebook will have the opportunity to win an autographed Linsanity poster. Look for two photos that will be posted this morning and enter your best caption to win.
Tomorrow at 9 a.m. Pacific, ten multiple choice questions will be posted. The first person to tweet the correct answer to all ten questions wins a pair of autographed shoes.
You can get details of each of the daily contests this week and the prizes up for grab on Jeremy's website.
Good luck.